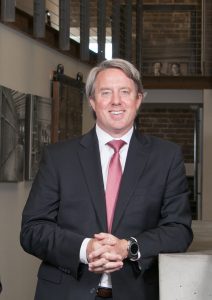 by Josh Wright
Post-COVID verdict averages in personal injury claims are up close to 50% from that of pre-COVID verdicts, according to recent statistics.¹ Verdicts in 2022 alone for Alabama injury victims have topped $97,000,000 in cases involving a wide array of wrongful conduct, including contract disputes, auto, medical malpractice, co-employee, fraud, discrimination, and uninsured motorists. See some of those recent verdicts below (based on lawyer-disclosed data):
Juries appear to listen carefully, consider all the evidence and thoroughly asses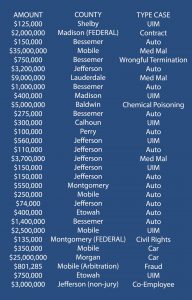 fundamental fairness in cases post-COVID. Insurance companies are also getting the message that juries are ready and willing to put aside politics and division in a courtroom, and award fair results in legitimate and real injury cases. Our firm alone has resolved (both at trial and pre-trial), a substantial number of lawsuits for unprecedented money in the last 12 months, which in no small part is because insurance companies have heard the message and listened to recent jury verdicts across the Country.
So what is driving the substantial recent post-COVID verdict numbers? Albeit anecdotal at this early stage – given that little data-driven research has been done of the issue to date – it appears to be based in part on several fundamental factors.
First, our society appears to have developed some level of frustration and hostility towards larger corporations who profited during the COVID crisis, to include leaders who run those corporations. Citizens were constantly reminded during COVID of how lucrative the period was for certain sectors and industries, to include pharmaceuticals, technology, delivery goods, oil and gas, media, social media, cell phones, etc. And, how lucrative COVID was for the the leaders of many of those companies who saw record profits and bonuses. Although the ordinary citizen has become less economically stable, that same citizen – who could be a juror – is reminded daily that wealthy businesses (and their owners) were made rich during COVID.
Second, juries likely are more compassionate to the plight of an average injured plaintiff, post-COVID. It is less difficult today for a juror – who himself struggled with economic issues, employment issues, relationship issues, and even family sickness – to "feel for" a plaintiff injured at no fault of their own. Simply stated: although our political landscape may have been turned upside down and divided during COVID, our compassion and empathy for other human beings, that truly need help now, appears to have been amplified.
Third, citizens are becoming increasingly desensitized to discussing, evaluating and considering, larger monetary numbers. It's not hard to see why the average juror is desensitized to awarding big numbers in a jury room. In the last 24 months, we have had unprecedented corporate bailouts, multiple rounds of PPP money, tax credits, economic impact payments, encouraged government bank loans, huge bonuses to some corporate officers, student loan forgiveness, an influx of nearly $6-$7 trillion into the U.S. economy, exorbitant gas and grocery prices, etc. At some level, to a juror, a verdict form is nothing new to what they have discussed, perceived, and experienced over the last two years. Today's "fair value" numbers are markedly greater than "fair value" numbers discussed prior to March 2020.
Finally, as civil courthouses closed and juries sat idle during COVID across the Country for many, many months, good and real injury cases sat and waited for just this moments. Lawyers have now pushed their cases – the top cases on their lists – to the front of the line now that courthouses are back open. So, recent jury results need to be digested carefully nationally, and in Alabama, because many solid injury cases have been backlogged and sat during COVID and are now finally hitting the courtrooms for decision.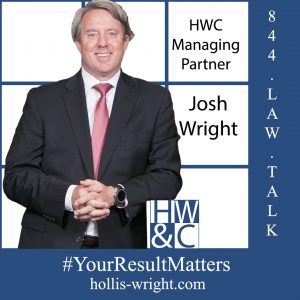 If nothing else, these anecdotal thoughts suggest that post-COVID, there is higher potential for a larger damage award in a personal injury case. However, the general legal premise of "right facts, right plaintiff, right venue" still stands true today and must be evaluated per case. Post-COVID juries are just as capable, if not more capable, of filtering through the facts and assessing fact from fiction and injury from non-injury. That's all the more reason to make sure your case is evaluated today by an experienced and seasoned trial lawyer, to get a full and realistic snapshot of how successful you can be in a courtroom post-COVID.
Everyone's experience during COVID was unique. That much is true. One thing that has been a constant, though: Hollis Wright is still here to help you maximize the recovery of your case if you need help. Let Hollis Wright evaluate your serious injury case today. Contact Josh Wright at joshw@hollis-wright.com or any of our attorneys today. You can contact us online here or call 844.LAW.TALK or 205.324.3600.
¹ See Scientific evaluation of juror damage awards post-COVID, Courtroom Sciences (CSI), Auth. Steve Wood, Ph.D.