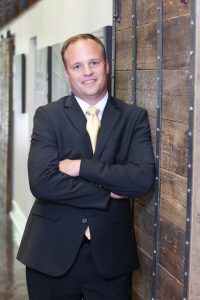 by HWC Attorney Michael Eldridge
It is not uncommon for individuals and companies to face situations in which they are unsure of the potential legal ramifications that follow certain future actions or decisions. This is especially true in the context of contractual relationships. Alabama courts have long recognized a party's right to efficiently obtain a judicial determination of their rights and responsibilities in many of those circumstances. The vehicle for said relief is the Alabama Declaratory Judgment Act Ala. Code §6-6-220-232. Unlike typical civil lawsuits, the Alabama Declaratory Judgment Act allows a party to file a lawsuit for the sole purpose of getting a legally binding court order defining the party's rights, responsibilities, and obligations under the circumstances at issue.
While there are many circumstances in which the Alabama Declaratory Judgment Act is an appropriate judicial tool for individuals and businesses, it is most commonly employed by insurance companies. This is because insurers commonly face situations in which future uncertainly exist relating to their obligations and responsibilities to an insured. Examples of these situations include questions like whether coverage is owed, whether the insurer has a duty to defend a person in a lawsuit, or whether a person even qualifies as an insured under the insurance policy. The one thing all of these cases have in common is that they each involve circumstances in which the controversy or uncertainty stems from a party's future rights, obligations, or responsibilities.
Given the efficient nature and economical benefits of declaratory actions, the process is incredibly attractive to insurance companies. Over time, however, this has led to a trend in which these companies attempt to exploit the use of declaratory actions in circumstances that are inappropriate. The two most common scenarios during which this occurs are (1) circumstances in which the disputed issues do not involve a future uncertainty needing resolution, and (2) circumstances in which the insurer has gotten an unfavorable ruling or result in a prior pending action.
The first scenario involves situations in which the claim at issue arises out of some action that has already occurred. For example, if an insured brought a claim against an insurer for breach of contract or bad faith, then the controversy centers on actions and inactions that occurred in the past. Because there is no uncertainty as to the appropriate future actions to be taken (defend your prior actions), a declaratory action is inappropriate.
The second scenario is potentially far more nefarious, as it relates to an insurer attempting to take advantage of the declaratory judgment process. These situations occur when a justiciable issue exists that would have been appropriate for declaratory relief, but a prior pending action already exists dealing with identical legal issues. Take for example, a situation in which an individual is badly injured in a car accident caused by an uninsured motorist, but the individual believes she qualifies as an insured under a policy of insurance for the purpose of uninsured motorist coverage. When that claim is initially presented, the insurer might be uncertain as to whether the person qualifies as an insured for the purpose of providing coverage. At that point, it would be appropriate for the insurer to file a declaratory complaint to get a judicial determination on that issue. If, however, the insurer simply chose to deny coverage, and the injured party filed a lawsuit against the insurance company seeking uninsured motorist benefits, the key issue in that civil action would center on whether the plaintiff, the injured party, met the definition of an insured for the purpose of uninsured motorist benefits. At the moment that action is commenced, the use of the Alabama Declaratory Judgment Act is no longer appropriate. Insurers, however have a history of taking a wait-and-see approach in these circumstances. The purpose of this approach is: In the event the insurer gets an unfavorable ruling or result in the pending action, she can turn around and file a new declaratory action with a different court to, hopefully, get a different ruling.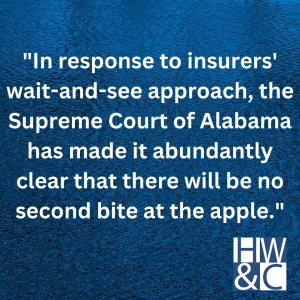 In response to insurers' wait-and-see approach, the Supreme Court of Alabama has made it abundantly clear that there will be no second bite at the apple. Specifically, the Supreme Court of Alabama has held that if, at the time of the filing of a declaratory complaint, a prior pending action exist involving the same parties and identical legal issues that are addressed in the declaratory complaint, then "jurisdiction of the declaratory judgment action will not be entertained." Mathis v. Auto-Owners Ins. Co., 387 So. 2d 166, 167 (Ala. 1980) (citing Foreman v. Smith, 272 Ala. 624 (Ala. 1961) See Annotation, 135 A.L.R. p. 934) (emphasis added). Specifically, Alabama law holds that a "declaratory complaint cannot supersede the determination of an issue already pending in another action filed before the complaint for declaratory judgment." George Moulton, Inc. v. Langan, 285 Ala. 427, 434 (Ala. 1970). "To permit otherwise would sanction this use of declaratory judgment act as a vehicle to determine the sufficiency of defenses to a pending action." Home Ins. Co. v. Hillview, 78 West Fire District, et. al., 395 So. 2d 43, 44 (Ala. 1981)(quoting Sparks Const. Company, Inc. v. General Mut. Ins. Co., 334 So. 2d 897 (Ala 1976)).
The use of this tactic by insurance companies is neither new nor exclusive to cases in Alabama and the Alabama Declaratory Judgment Act. In fact, the Supreme Court of the United States dealt with this exact misuse of the Federal Declaratory Judgment more than 80 years ago. Brillhart v. Excess Ins. Co. of America, 316 U.S. 491 (1942). In affirming the dismissal of an insurer's declaratory complaint filed after the filing of a prior pending action on the same legal issue, the Supreme Court of the United States described this use of declaratory actions as "uneconomical" and "vexatious."
Undoubtedly, declaratory actions play an important role in the civil justice system. This is especially true for businesses that commonly find themselves in litigation, like insurance companies. The procedure allows those potential litigants to minimize uncertainty that exist in an efficient and economical manner. Nonetheless, despite nearly a century of case law and legal precedent defining the limited circumstances for when it is appropriate to file a declaratory complaint, some insurers continue to attempt to abuse the use of declaratory actions to obtain cheap and favorable judicial rulings. As such, should you or your business find yourself in a situation in which an insurer is seeking declaratory relief adverse to your interest, it is imperative that you consult with competent counsel about your rights and whether the insurance company's actions are appropriate.