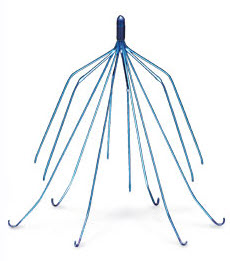 What are IVC filters and when are they used?
Intra Vena Cava ("IVC") filters are small spider-like devices that are implanted in the veins of patients in the hope that the filters will stop blood clots from reaching the patient's lungs and other vital organs. IVC filters are designed to capture blood clots that occasionally break free from the deep veins inside a patient's body before the blood clots can reach the patient's lungs and cause a decrease or a complete stoppage of blood flow to the patient's lungs. However, hundreds of reports from across the nation indicate that the devices may fracture or break after implantation resulting in serious injuries and in some cases death.
IVC filters are usually implanted in patients who are at risk for having a sudden blockage of a major blood vessel, known as a pulmonary embolism, and are either unable to take anticoagulants or the patient has taken anticoagulants but they have failed to properly prevent the patient's blood from clotting. The IVC filters are supposed to be a safe alternative which prevents blood clots from forming in a patient's blood vessels. However, in April of 2015, the Journal of the American Medical Association published a study comparing the treatment of patients presenting with an acute pulmonary embolism and a high risk of recurrence using a retrievable IVC filter plus anticoagulants versus using anticoagulants alone. The study revealed that "the use of a retrievable inferior vena cava filters plus anticoagulation compared with anticoagulation alone did not reduce the risk of symptomatic recurrent pulmonary embolism at 3 months." Furthermore, the study suggested that patients with IVC filters may be twice as likely to suffer from a serious, and sometimes fatal, pulmonary embolism than patients who were prescribed anticoagulants alone. Therefore, the study suggests that IVC filters should not be used in cases where patients can be treated with anticoagulation.
Are you at risk?
At the center of the litigation is C.R. Bard Inc., ("Bard") a manufacturer and marketer of medical technologies in the fields of vascular, urology, oncology, and surgical specialties. Bard marketed the Bard Recovery IVC Filter in 2003, but a couple of years later, in 2005, Bard removed the Bard Recovery IVC Filter from the market and replaced it with the new and improved Bard G2 IVC filter stating that the new filter included "enhanced fracture resistance." However, since 2005, the Federal Food and Drug Administration ("FDA") has received hundreds of reports that both the Bard Recovery and the Bard G2 IVC filters have fractured and failed after they have been implanted in the patient. In some cases, the "legs" of the filters have broken or fractured, allowing the legs of the device to travel through the bloodstream and into other organs of the body. Other cases have found that the entire device has become dislodged and migrated intact through different parts of the patient's body. These device failures have caused significant bodily injuries and complications to patients all across the country.
In 2010, the FDA issued a warning letter to doctors, notifying them of the potential dangers associated with retrievable IVC filters and that such devices should be removed as soon as the patient is no longer at risk for a pulmonary embolism. In 2014, the FDA issued another warning stating that patients are at increased risk the longer the IVC filters remain implanted. Then, in July 2015, the FDA issued a warning letter to C.R. Bard Inc. for misbranding a device that was used to remove the Recovery IVC Filter as well as quality system violations at Bard's Arizona and New York facilities.
What is the current status of the IVC filter litigation?
As a result of the FDA's multiple warnings, lawsuits have been filed across the country alleging that faulty IVC filters have caused severe harm and even in some cases death. Class action lawsuits have been filed in California and Pennsylvania alleging that C.R. Bard, Inc. and its subsidiaries are liable for negligence, failure to warn, design and manufacturing defects, breach of implied warranty and negligent misrepresentation. In October 2014, the U.S. Judicial Panel overseeing Multidistrict Litigation consolidated lawsuits into Multidistrict Litigation No. 2570 in the Southern District of Indiana. However, additional cases are still pending in state and federal courts across the nation.
If you or a loved one has received a Bard Recovery IVC Filter, or a Bard G2 IVC Filter you should have your claim evaluated by a legal professional as soon as possible. Complex litigation against large pharmaceutical companies demands specialized legal experience.  If you or a loved one believe you have been harmed by a Bard IVC Filter or any other drug or medical device, contact the firm of Hollis Wright for more information. All cases are handled under a contingency fee, which means there are no fees or expenses unless we obtain a recovery for you.